| | |
| --- | --- |
| | |

| | |
| --- | --- |
| | |
*Please note that this is essentially a group class. If there is any other tourists who signs up for the same time slot as you, you will be participating in a lesson along with them. Otherwise you might be on your own in the class.
| | |
| --- | --- |
| | How long is a class?: 60 minutes |
What date?: Wednesday & Friday*
*If these days and/or time does not work for you, please contact us and tell us what your preference is, and we should be able to make some other arrangement for you.
*The class with NOT be held on Wednesdays or Fridays if there is no prior reservation made by participants.
What time?: 14:00-15:00*
| | |
| --- | --- |
| | Where is it at?: Taiko Center Headquarter, Kyoto studio |
| | How much does it cost?: 5000yen (including tax) per person for an hour, as long as the total number of participants in the class is 2 or more people. (So 10,000yen will be charged if there is only one participant. We will notify you before you come if that is the case and let you know of other choices. Even if you come alone, as long as there are other people also participating, it will be 5000yen each.) Please bring cash to pay ? we do not accept credit card. The cost includes rental fee for the taiko sticks. |
What language will the lesson be in?

Japanese or English We do our best to make sure that our interpreter/assistant taiko instructor is present at your lesson, but even if they are not there, most instructors speak enough English to teach the class on their own. (If you don't mind a lot of body language communication, we can accommodate other languages too! There is a French speaking instructor at the Osaka studio.)

Who can attend this class?

Anyone and everyone above 3 years old! You can come as a family, couple, friends and you can even come alone! It will be a great opportunity for you to meet other tourists too. Our instructors can manage a class with a wide age spread or multiple cultural backgrounds.

What will we do in class?

(This is a rough example) Normally we start with a simple stretch and learning about what taiko is made out of. Then we move onto learning basic taiko movements and try hitting it right away! Usually we teach a few simple patterns or a piece to the participant, which gradually gets more challenging depending on the levels of the participants. Then they do a final run through performance at the end. Many of our customers enjoy taking group photos with the instructor and taiko before they leave, and stop-by at our store on first floor to get some taiko souvenirs!

Who will be my instructor?

Taiko-Lab instructor (trained and certified by Taiko-Center) They are all experienced taiko players and most of them are part of performance groups that regularly perform at various events. They run regular taiko classes at our studios. They are all excited to share their passion with you!

What should I bring?

Come in (or bring) clothes that you can exercise in! You will be sweating if you play the taiko right! You will also be asked to take your shoes and socks off for the class. We have a changing room so you may bring a change of clothes. Please note that we do not have a showering facility. We rent the taiko sticks for free for your lesson, but if you wish to use your own and take them with you, we sell them at our store on the 1st floor along with many other taiko-related items/souvenirs!
| | |
| --- | --- |
| | Please use the following online form to make your booking. |
*If for some reason you are unable to use the form, please follow the instructions below.
Please call us (075-813-8633) or send us an email (infoeng@taiko-center.co.jp) with the following
information to book in advance (Please note that without a reservation, we may not be able to fit you into
our schedule.
1. Full name
2. Nationality
3. Language
4. Date and time that you prefer (if you can, give us more than one preference)
5. Number of participants and their ages (Two people minimum*)
*You are also welcome to make a reservation for one person or for private (solo/group) lessons, but the price
will change so please contact us for more details regarding these options.
| | |
| --- | --- |
| | Check out these articles written by our participants about how the class was! |

The Kyoto Taiko Center

The best place for tourists to pay to play Japan's traditional drums in Japan's traditional city

(On Tofugu)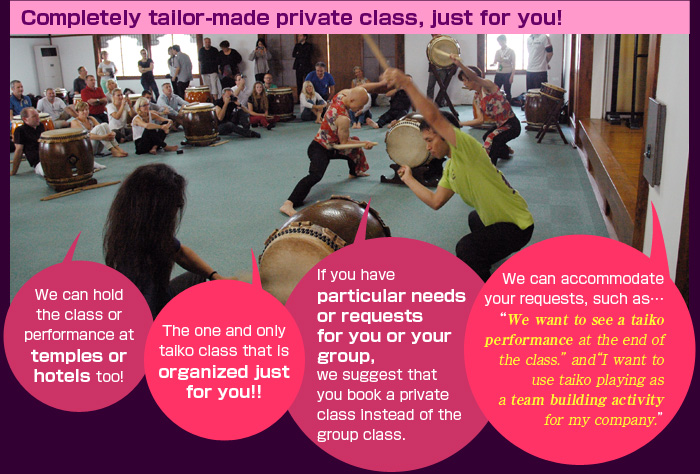 | | |
| --- | --- |
| | These are some of the examples of our tailor-made lessons from the past |

1 hour class of family bonding time without any other tourists.

90 minutes class for a large business group of 50 people from Italy at a large hall, where they practiced and performed a taiko piece together for 60 minutes, and ended with watching a taiko show for 30 minutes.

1 hour class for a very large group of 180 tourists from France at a peaceful temple in Kyoto as part of their company's reward trip. We split them into groups of 60 people and did classes in 3 rounds with 1 hour each.

1 hour group class for a high school trip from Australia.

1 hour class at the participants' hotel with a performance at the end.
2 hours of advanced level private class for professional musicians/ drummers.

90 mins class for 20 company workers from Sweden as a part of a business trip where taiko playing was used as a team building activity. We split the group into two and taught different pieces with different instructors, then ended with a performance competition at the end.




VIP class for high
profile visitors.

Weekly group classes for university exchange students from overseas over a few months, ending with a performance at a university event.

1 hour class for a school concert band from Singapore, who came to Japan for a band competition.

1 hour class as a cultural exchange study for school students from South Korea.
Just want to see a taiko performance without doing a taiko class?
? We can arrange that too!
We can send our performers to your company parties at hotel, school trip venue, event hall and so on. It does not have to be just taiko - we also have performers who play other traditional Japanese instruments such as bamboo flute (shinobue). If you are here when we are hosting a taiko concert, we will be able to reserve the tickets for you as well. Performance prices are completely different from the class prices, so please contact us if you are interested in this option.
| | |
| --- | --- |
| | Adding performance by the instructors as a part of the private taiko class |
Our customers often like to end their taiko class with a professional taiko performance, and our instructors who are also active and accomplished performers will be able to do just that! Performances will be an additional cost on top of the class, and the price will be determined according to the length of the performance and the number of performers involved. Please contact us regarding this option.
| | |
| --- | --- |
| | We highly recommend the following people to consider booking our private class: |
Why not incorporate a taiko playing activity to your school trip? Young students will surely love the high-energy activity, and they are still exposed to the local culture while having fun! We can also include a little cultural background lecture about taiko and traditional Japanese music culture, as well as share stories or philosophy behind Japanese manners or greetings in the class. We can accommodate a large group and the class can also act as a team building activity with a performance competition at the end!

Professional musician (drummer): If you are already musically inclined, a private class will definitely suit you better. We can progress faster and do pieces that match your interest and skills. We had a famous drummer from a world renowned rock band take our class and we were able to make the lesson more personal and unique for him.

Finding a unique activity is crucial for tour groups. We can accommodate any size groups and adapt to various mixtures of nationalities and age groups. All you have to do is to bring your group here, and we will take care of the rest! There can also be performances at the end of the class by our instructors, where your client can take photos or video and take it home as a memory. (Please note that there will be an additional cost for performances.)

Team building activities need to be both fun and challenging, and taiko class will do just that! We can either do a class as one big group and encourage the participants to all help each other, or split the group into smaller groups and they can complete against each other. Music not only has the power to unite people together, but hitting drums really hard can simply be very satisfying and stress relieving for your hardworking colleagues! We recommend to do at least 2-3 hours for team building classes, and we will end with participants performing in front of each other. If it is a large group (30-100 people), we often have 2-3 people play together on one drum.

We have instructors who have years of experience performing professionally, and they can be specially assigned to your group if your taiko group is high level. We can help your group to learn a completely new piece, help you to improve on various techniques, or help you prefect a piece you are currently working on. It could be spread over a few days if needed.

Being famous should not make it any harder for your celebrity to have some fun! We understand the importance of privacy, and we can run a class just for your client without being interrupted or disturbed. We have many experiences hosting VIP guests.
Besides taiko classes, we can also help you to arrange packed lunch for a day long class, organizing transportation from/to class, and finding a traditional performance to go see. Please note that additional fees may be required for these services.
We have years of experience in organizing various types of lessons to meet each customer's unique needs and unusual requests. Please do not hesitate to ask us any questions!
There is a slight difference in price between each location, and depending on the assigned instructor and their availability. The price will also change according to the specific requests and class duration, but please see the list below for our typical price for a 1 hour lesson. If there is only one participant, the price will be at least doubled as you can see below. Since so much of the price depends on each client's request, we are unable to list the definite price here. We will be able to give you a more detailed idea for the price when you contact us with your requests.
1 hour private lesson:
1 person = 12000-30000yen
2 person = 14000-32000yen
3 person = 16000-34000yen … and so on.
(tax not included)
*Group with more than 10 people will be charged using group fee scale, which will result in slightly cheaper price for each person-please contact us for more detail.
Some example of the class content and price
| | |
| --- | --- |
| | 2 hour long private class for one person + experienced taiko player from oversea wanting to learn a very specific type of taiko + a professional instructor who was also an accomplished performer and specializes in the taiko that our client wanted to learn = 40000yen+tax, |
| | |
| --- | --- |
| | 90 minutes private class for 20 company workers from oversea + team building lesson content + use of two studios + two instructors = 5000yen per person including tax (This is with the group discount) |
9:30-21:30 on any date except for holidays
(We have regular lessons at all of our studios as well, so it will be arranged around that schedule.)
| | | |
| --- | --- | --- |
| | 4th floor of our headquarter building is Taiko-Lab, Kyoto Studio. There are 2 studios and they holds about 30 people in total (10 in one studio, and 20 in another). 1st floor is our store with various taiko and taiko-related products! | |
| | | |
| --- | --- | --- |
| | traditional temple around Kyoto-city (We cannot give out much details here, but there are few temples we can make an arrangement with.) They can hold up to maximum 100 people. | |

| | |
| --- | --- |
| | Please use the following online form to make your booking. |
Please try to book your private class as early as possible. We run regular lessons at these studios as well, and you are more likely to get your preferred choice of date and time for lesson if you contact us well ahead of time.
*If for some reason, you are unable to use the form, please follow the instructions below.

Please book well in advance by sending an email to infoeng@taiko-center.co.jp with the following information.
* (Please do not forget to specify that you are interested in "private lesson" instead of the "group class"):

1. Full name of a representative person and company/group name if any
2. Date and time that you prefer (Please give us a few preferences.)
3. Duration of the lesson (Minimum 1 hour to however long you wish it to be! We can also suggest a duration according to your requests.)
4. Number of participants
5. Language of the participants (We can provide a French and English interpreters who are also taiko instructors, but if you prefer a specific instruction in any other language, we suggest that you provide an interpreter.)
6. Any specific types of drum or music you would like to learn, requests, or purpose of lesson that you can tell us already
7. Venue: Please pick one from below.
• Kyoto*: Kyoto studio
• Temple