October/1/2015

Autumn Clearance Sale 2015

Dear valued customers,

We are pleased to announce our autumn clearance sale. Many our items are 10 % discounted. Especially, bachi is best buy. It's the first time for us to discount all bachi including new bachi. Also, we sell two new items featuring rimpa, which is one of famous schools of art form in Japan. We make shinobue and t-shirts of rimpa at this time. Shinobue is made by one of the best shinobue brands, shinobue rippei. If you are interested in rippei's shinobue, our rimpa 400 anniversary model is highly recommended. Both items are sold only in 2015. This sale will continue until December 31. Take advantage of this biggest chance!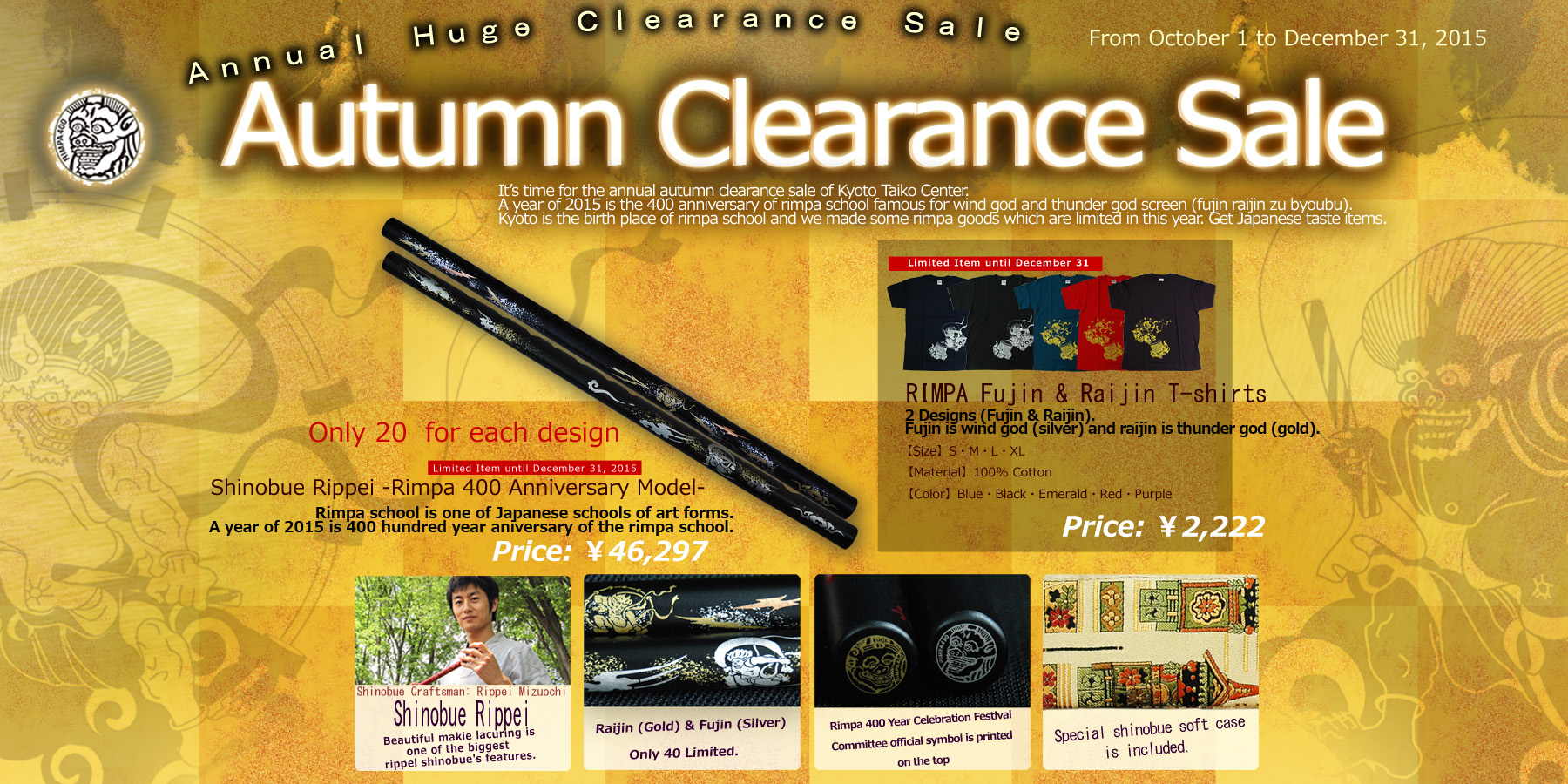 Nagado Daiko Kizuna [SALE]
1 shaku 3 sun Sale Price:
160,000yen
(Regular Price: 200,000yen)
1 shaku 4 sun Sale Price:
175,000yen
(Regular Price: 250,000yen)
1 shaku 5 sun Sale Price:
180,000yen
(Regular Price: 300,000yen)
1 shaku 6 sun Sale Price:
192,500yen
(Regular Price: 350,000yen)
Okedo Daiko [SALE]
1 shaku 3 sun Sale Price:
74,074yen
(Regular Price: 90,000yen)
1 shaku 5 sun Sale Price:
83,333yen
(Regular Price: 110,000yen)
Nagado Case [SALE]
1 shaku 3-4 sun Sale Price:
27,000yen
(Regular Price: 30,000yen)
1 shaku 5-6 sun Sale Price:
27,900yen
(Regular Price: 31,000yen)
Shime Case [SALE]
Nami-3cho Sale Price:
8,100yen
(Regular Price: 9,000yen)
4-5 cho Sale Price:
9,000yen
(Regular Price: 10,000yen)
Square Stand [SALE]
1 shaku 3-4 sun Sale Price:
13,500yen
(Regular Price: 15,000yen)
1 shaku 5-6 sun Sale Price:
16,200yen
(Regular Price: 18,000yen)
Inclined Stand [SALE]
1 shaku 3-4 sun Sale Price:
32,400yen
(Regular Price: 36,000yen)
1 shaku 5-6 sun Sale Price:
34,200yen
(Regular Price: 38,000yen)
X Stand [SALE]
1 shaku 3-4 sun Sale Price:
31,500yen
(Regular Price: 35,000yen)
1 shaku 5-6 sun Sale Price:
36,000yen
(Regular Price: 40,000yen)
Autumn Clearance Sale 2015