Your health and safety is our #1 priority. To protect your taiko experiences,
TAIKO-LAB is committed to keeping our community healthy.
More Info about Safety Measures
Enhanced cleaning especially doorknob and light switch.
Placing hand sanitizer in each studio.
To avoid gathering in a small space, we are limiting changing room occupancy.
We also set store capacity limit.
To practice safe distance while lesson, maintain 1.5-2M from each music instruments
Studio team members will ventilate all studios every 30minutes, every break time and between lessons
To reduce communications in a close distance, we change a part of instruction discipline
All instructors and team members wear facial coverings
Setting plexiglass shields at reception desk for droplet precautions.
All instructors and team members did temperature screening every morning.
Requests to all visitors.
We ask for your understanding and cooperation to prevent infection
If you or your housemate have developed a cough or fever, you can't attend class and please stay home.
Use hand sanitizers before go into the building.
Temperature check required before go into the building. If you have a high fever, you can't attend class.
You can't use lockers in changing room. Please visit us with comfortable outfit beforehand or bring bigger bag instead of lockers.
Renting bachi sticks among members is forbidden. We also temporarily stop renting bachis.
In studios, please wear tabi shoes or room shoes.
Wearing facial mask or face guard in the building.
To avoid gathering people, you can come in the studio 10minutes before class starts.
Staying longer at lobby and any other share spaces are not available.
No eating and drinking except drinking water.
Bring back facial masks or face guard that you used by yourself.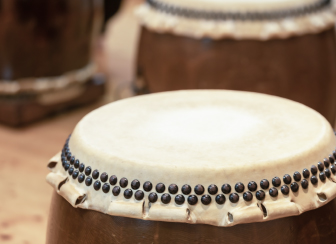 TO MEMBERS WHO ARE ANXIOUS ABOUT LESSON DURING THE COVID-19 OUTBREAK
We would like to get your feedback.
We keep increasing safety measure under a new safety guideline to support your wonderful taiko life.
If you have questions, feel free to contact us.